EMAIL
CUSTOM TURBOS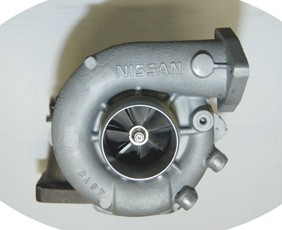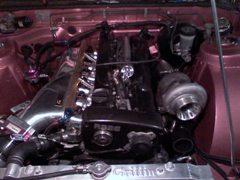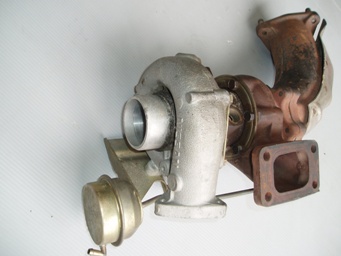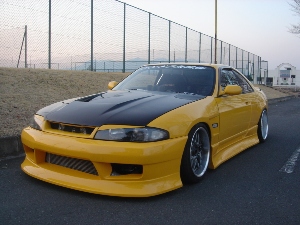 RB25/RB20(skyline GTST)
High Flow
EXCHANGE
The turbocharger on the GTST Skyline rb20 engine are
a unique turbo as in the components it has are unusual.
The most common are the ball bearing and ceramic
turbine wheel types which are not like the current
GARRET GT turbo's which are so popular. The ball
bearings system is very different and the turbine wheel
is ceramic.Also the exhaust housing has a very tiny A/R
possibly around a .2 A/R. You can really understand the aim of the NISSAN designers was to create something
with as little LAG as possible. The Ball Bearing side of
the turbo is reasonably reliable but the ceramic turbine
does not handle the punishment long term especially
when the boost is raised. The turbine housings small
A/R can cause a high back pressure and also cause
an eccessive temperature raise in the exhaust manifold
and turbine housing which can cause demage. There
are types of this turbo that have PLASTIC compressor
wheels which ,of course,do not last but can aid in the
spool up.High Flowing these has a very successful result and there is many levels. But rebuilding is not
possible to bring it back to original.
None available yet.
Here are the available options and there prices:-AUST$
Rebuild standard RB25 turbo ...................$1200

Includes:-
Fully overhauled NEW plain bearing TO3 core replacement
Fully cleaned and dressed to appear "as new"
New TO3 turbine wheel
Matching TO3 compressor wheel
Fully balanced including core balancing and speed
testing.
---
High Flow-Basic.............................$1450

includes:-
Fully overhauled(as above)
50mm compressor wheel
---
High Flow with extras...............................$1750

Includes:-
Overhauled and high flowed as above ,
Enlarged wastegate valve(32mm)
New TO4 N-TRIM turbine wheel,
54mm compressor wheel
Ported turbine housing
---
High Flow -extreme...............................$2050

Includes:-
Overhauled and high flowed (as above) ,
Enlarged wastegate valve(32mm)
New TO4 O-TRIM turbine wheel,
60mm compressor wheel
Replace Turbine housing with .63 A/R if available
Custom TO4B compressor cover
---
Warranty covers workmanship only and is for 12 months from purchase claimed only from origial purchaser. Does not cover external causes of damage or any other warranty claims such as oil/air quality or flow, foriegn material entering any port , shock or flooding ect.

---