U

EMAIL
CUSTOM TURBOS





Comparison between Stock and rebuilt



STAGE 3 -
CT20 2JZ SUPRA/ ARISTO TWIN TURBO HIGH FLOW JDM
THESE HIGH FlOWS CAN BE OBTAINED THROUGH THE EXCHANGE SYSTEM
HOW IT WORKS IS ON THIS PAGE.....EXCHANGE SYSTEM
There are many flaws and restrictions in the JDM ct20 twin turbo system which are the ceramic exhaust
wheel that areprone to break apart after increased boost is
demanded from the turbo or from old age. There is also the Compressor wheels
which are undersize for most power outputs wanted. With the
increase in these two on the turbo alone, boost creep is now
the problem, as the boost control is only done on one wastgate
flap between the two turbo's.
The best method of retaining the sequential operation of the
Twin turbo's of the 2jz engine and also keeping the factory appearance and
having performance to match a single turbo setup, if that is the requirement, is to High Flow the Factory CT20 turbochargers. This can be done with a very cost effective way that has been developed to get the most flow from the system by improving the flow in the restricting areas of the CT20 twin turbo design.


Upgrades (supporting mods) which go with the
twin turbo high flows are larger exhaust system, bigger
intercooler and fuel injection modifications.
Higher upgrade methods available (below) are ported exhaust
manifold,high flow turbo,Ported wastegate and dual intake pipes.

All high flows suitable for sequentail operation.
(Highly recommended)
Here are the options for exchange and there prices - AUST $
---
Rebuild standard CT20 twin
STAGE 1...................$1350 total
Includes:-

Steel CT20 turbine wheels.(INCONEL)
Fully overhauled including kit (new seals,o-rings,bearings)
Fully cleaned and dressed to appear"new"
Fully balanced including core balancing and speed testing.
---
High Flow-Basic
STAGE 2.............................$1750 total


includes:-

Fully overhauled (as above)
46.5mm compressor wheel
Steel turbine wheels cropped (inconel)
Ported wastegate hole.
This high flow is suitable for someone wanting to customize their own system as in fitting their own remote wategate and/or custom manifold. It still has very restrictive turbine housings but very good value. Without a modified wastegate or external this could cause over boost or boost spikes.
---
High Flow with wastegate improvements -
STAGE 3.......$1950 total


Includes:-

Overhaulled and high flowed as above with 46.5 mm Compressor wheels
cropped inconel turbine wheels.
Enlarged wastegate valve(32mm) and large can heavy duty
actuator (ct26) for better valve opening at lower Boost.
Controls boost well from 14psi.
Approximate output rating 280rwkw - 320rwkw
(Based on 20-25 psi with a stock engine (unopened),with supporting mods and an average reading dyno)
Very good value for this highflow and simple to fit and tune the sequential system to reduce the "dip" between the first and second turbo.
Still has restrictions in the turbine housings, intakes and manifold.
This is the best value 2jz high flow on the market for true Good performance without any hidden issues or predicatble problems suchj as boost creep or spike or sequential issues.
---
HIGH FLOW WITH PORTED MANIFOLD, "Y" PIECE
and DUAL INTAKES -
STAGE 4............... $4100
Details here about the stage 4 high flows This link(above) has the explainations of why the modifications are done and some instructions and information on the 2JZGTE CT20 twin turbo high flows.
This is the only COMPLETE 2jzgte stock turbo high flow kit available in the world.

With proven and real over 500hp and 9 second quarter mile 140mph times in sequential, looking stock in a full body street Supra
Includes:-
-High flowed twin CT20 turbo's with 48mm billet compressors.
-Steel Cropped Turbine wheels (as above).
-Exyensively Ported turbine housings
-large waste gate hole 32mm and flap 37mm
-large can actuator (ct26)and heavy spring (control from 16-40psi)setting 16psi
-Extensively Ported Exhaust manifold (75% more flow).
-Fabricated LONG SERIES high flow exhaust "Y" piece with mount for sensor. (3 inch or 3.5 inch)
-Machined out EGCV Assembly
-CAST ALLOY DUAL INTAKES KIT (pictured left)
-Also come with gaskets for turbo water jackets and oil feed/drains and intake bracket and bolts.
-Supplied with instructions for intake fitment and sequential tuning.
This High flow can exceed 500RWHP and has on many 2jz fitments on a stock engine (needs ECU, increased fuel supply, modifications to the sequencial system and very good flowing exhaust system) All the major restrictions are delt with that are within a reasonable labour costing and still allowing top class performance. Boost is controlable from 16 to 40psi. The main intention is for sequential operation on the turbo's and looking as stock as possible.
This Kit has proven time and time again to provide well over 500 streetable Hp and also has managed 9 second quarter miles on a street car and still sequential looking stock.
Contact by Email or message on the Facebook page to order or ask questions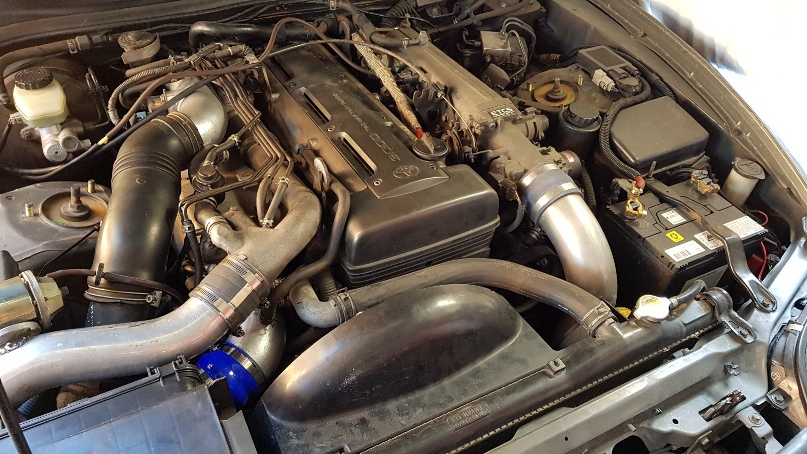 Dual intake and Stage 4 kit fitted with the stock air box
(Air box fitment or pods are up to customers to fit and adapt)



Warranty covers workmanship only and is for 12 months from purchase claimed only from origial purchaser. Does not cover external causes of damage or any other warranty claims such as oil/air quality or flow, foreign material entering any port, shock or flooding ect. Stage 3 is rated for max of 400rwhp and stage 4 rated for maximum 500rwhp with matching intakes, blow off valve and exhaust and only when complete kit is used. Exceeding workshop settings and design parameters will void warranty